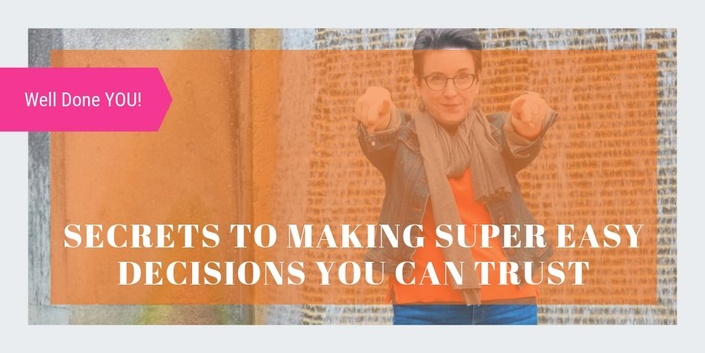 Secrets to Making Super Easy Decisions You Can Trust
Use your inner wisdom to change your life for the better and confidently make difficult decisions.
I'm SO glad you're trying to improve your life! Just being here on this page shows me you want to change for the better and be happier.
Whatever you're looking for in life, it all starts with knowing what REALLY matters to YOU so you can make the decisions you need to make to get there.
Secrets to Making Super Easy Decisions You Can Trust can help you with all the little and big decisions in your life.
Did you realize that making decisions that work for you is something you can learn? And if you already make good decisions, you can learn to make GREAT ones, super easy and super fast.
In this course, you'll learn how to make ANY decision (big or small) in just a few seconds. Really! Just. A. Few. Seconds.

I'm sure you've had times where you had to make a decision that left you feeling totally stressed out. Times when you felt clueless about knowing the "right" decision. Or times when you were overwhelmed trying to "think" your way through the tangled mess of options -- afraid of missing or passing by the perfect one.
You're bombarded with decisions from the moment you wake up until the second you fall asleep. It starts with deciding whether to hit the snooze button and then continues with decision after decision until, at the end of the day, you're so rundown it's tough to figure out what to eat for dinner or even when to go to bed!
And that's just thinking about the EASY, everyday decisions. Forget about the HARD and downright overwhelming ones!
"Secrets to Making Super Easy Decisions You Can Trust" will help you learn WHAT your true priorities are and HOW to use them to make great decisions. It teaches easy (and powerful!) techniques. Techniques most people don't know about.
Let's be honest, to make any change in your life, you first need to know WHAT MATTERS MOST.
It's like driving somewhere new. You've got to know where you're going in order to get there. No GPS? No map? It's gonna be tough! Knowing what matters most to you helps you make big and little choices that support what you really want in life.
And the next step is knowing how to make decisions based on YOUR priorities. Not your family's priorities. Or your sweetheart's. Or your friends'. Yours. Because when YOUR priorities run the show, you make choices that nurture you, your loved ones, your life, and your dreams.
By enrolling in this course, you're taking steps to make a better life for yourself! You'll dive into:
why you need to learn to make decisions more easily
why it's harder for people who are "nice" or people-pleasers to make decisions
how to cut down the number of decisions you have to make
what's most important in guiding your decisions
what really matters most to you
how the brain works when you're making decisions
using your brain to your advantage in decision-making
two different ways to make decisions more easily
why you can trust those decisions
what to do when you can't DECIDE what to do.
In Secrets to Making Super Easy Decisions You Can Trust, you'll learn how to use your own inner wisdom to help you make decisions you can always count on. And it's SO EASY.
The techniques you'll learn in the Secrets to Making Super Easy Decisions You Can Trust can cut down the worry and exhaustion in your life.
Little decisions or big decisions, you're covered! Imagine not stressing over whether you've made the "right" choice or not. Imagine the extra TIME and ENERGY you'll have when you don't have to agonize over every decision.
Now you're probably thinking, "How could anything give me the right answers to life's biggest decisions every single time in just a few seconds? Sounds too good to be true."
It's not. I'll teach you several easy techniques that'll make all the difference in the world. I've taught my decision-making tricks to countless people and every one of them has success.
By changing HOW you make decisions and making sure your decisions work for YOU, you'll have important keys to help you become HAPPIER.
Your Instructor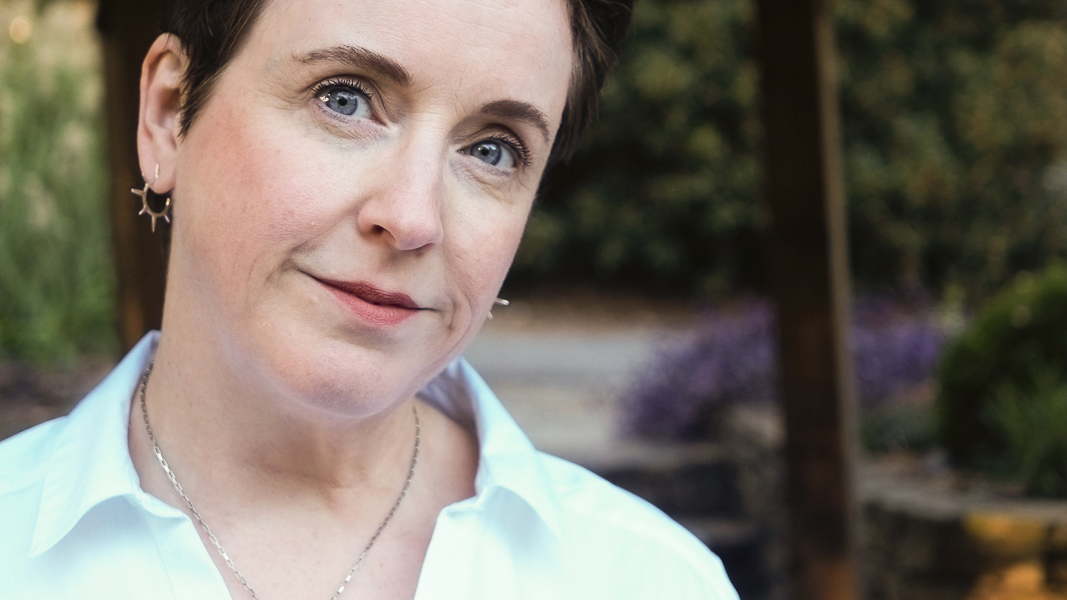 I'm a lot different than other "experts" you might come across. Yeah, I have a PhD in psychology. But unlike others, I've had some MAJOR stuff to overcome.
In my 30s, my health fell apart and became filled with canes, wheelchairs, being bedridden, and popping pain pills like Tic-Tacs. I had always tried to be everything for everybody and learned the hard way the danger of being "too nice" and not saying "NO." If I stayed on that path I would become just like my Grandmother who lived her last decade completely confined to her bed.

How did I heal? Obviously, I started eating well, exercising, and balancing times of activity and rest. And though they helped, they weren't "game changers". The BIG game changer came when I CHANGED MY PERSPECTIVE. I became more positive. I focused on what I DID want in my life rather than what I didn't want. And I got rid of limiting beliefs and old baggage. Now I'm better than ever with a GREAT life!
You'd think having a PhD in Clinical Psychology would've made it easier for me. It didn't. But having that PhD did help me research new techniques, apply them, and evaluate what WORKED. Now it's YOUR TURN to learn from my mistakes. You CAN feel happier and more confident than ever. With some work, your life can be GREAT!
Course Curriculum
Make super-easy decisions you can trust: Introduction
Available in days
days after you enroll
Module 1: Getting straight on what matters to you
Available in days
days after you enroll
Module 2: Hacking into how your brain works
Available in days
days after you enroll
Frequently Asked Questions
When does the course start and finish?
The course starts now and never ends! It is a completely self-paced online course - you decide when you start and when you finish.
How long do I have access to the course?
How does lifetime access sound? After enrolling, you have unlimited access to this course for as long as you like - across any and all devices you own.
What if I am unhappy with the course?
We would never want you to be unhappy! If you are unsatisfied with your purchase, contact us in the first 30 days and we'll give you a full refund. No questions asked.
I know from experience how paralyzing decision-making can feel and the stress that comes along with it.
By enrolling in Secrets to Making Super Easy Decisions You Can Trust, you're taking steps to a great life by learning tried-and-true techniques that can make a huge impact on your life. By learning to make decisions without feeling stressed, anxious, or overwhelmed, you'll have more time and energy to spend on things that really matter to you -- meaningful relationships and amazing experiences.
Make great changes in your life! Learn the life-changing methods taught in Secrets to Making Super Easy Decisions You Can Trust. Sign up now!